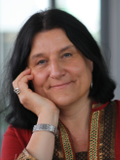 Márta Fülöp
Professor of Social Psychology
Eötvös Loránd University of Budapest
Budapest, Hungary
Website: Eötvös Loránd University of Budapest
Curriculum Vitae:
Prof. Márta Fülöp is the Scientific Director of the Institute for Cognitive Neuroscience and Psychology of the Hungarian Academy of Sciences (HAS) and Head of  the Cultural Comparative Psychology Department. She is also a professor of  social psychology in the Faculty of Psychology and Education, Eötvös Loránd University of Budapest (ELTE). She chairs the Social and Economic Sciences and Humanistics Institutional Sub-Committee of the Hungarian Academy of Sciences.
She has been the president of the Social Psychology Division of the Hungarian Psychological Association between 2000 and 2008. She was Deputy Secretary-General of the International Association of Cross-Cultural Psychology and chaired the Harry and Pola Triandis Doctoral Thesis Award International Committee between 2008-2012. She is Research and Publication Officer of the Children's Identity and Citizenship: European Association and chairs the annual research student conference of the Children's Identity and Citizenship in Europe Academic Network.
She was Research fellow of Japan Foundation (1996-1997), Lindzey  Fellow (1997-1998) in the Center for Advanced Studies in the Behavioral Sciences, Stanford, USA, a visiting professor at the Faculty of Sociology and Social Psychology, Kansai University, Osaka, Japan in 2004.
Her main research field is the psychology of competition. She has studied competitive attitudes in childhood, in adolescence, in young adulthood and in old age. She studied competitive attitudes in relation to social change. She has also studied the concept of competition in cross-cultural perspective. She has studies on the psychology of winning and losing and on the psychological and neurophysiological coping with winning and losing in young adulthood and old age.